SKILLS FOR A LIFETIME
Preventing Substance Abuse Through Middle School
Media Literacy Education
What is Media Ready?
Media Ready is an evidence-based program for middle school classrooms, designed to give youth the ability to analyze media messages, recognize unhealthy behavior, and prevent substance abuse through the power of media literacy education. The Third Edition has up-to-date media examples, including new sections on social media, vaping, and more.
Engaging!
Through interactive lessons and small group activities, students discover the media world around them and develop skills to understand the messages that are being sent to them.
Effective!
Our media literacy education programs are shown to increase media skepticism, strengthen beliefs that smoking and drinking are wrong for teens, and reduce intentions to use those substances in the future.
Students will build critical thinking skills, which can help them make healthy choices and combat the insidious influence of the media on substance use behaviors.
The Problem: Students are confronted with potentially harmful media messages every day.
Warning youth of the dangers of substance use has not been a successful strategy on its own, and simply telling the youth that all media messages are bad does not effectively prepare them for all the messages they may receive. A recent study by the Rand Corporation found that children are exposed to an average of three alcohol ads per day (Rand, 2018), and e-cigarette marketing towards adolescents has hugely increased in the past several years (Pierce et al., 2018).
The Solution: Give students the power to critically analyze all the media messages they encounter.
Media Ready was designed using a media literacy education framework. This innovative approach to substance abuse prevention empowers students with the skills they need to draw their own conclusions about media messages that promote substance use. Students will learn to not accept marketing at face value, and better understand hidden motivations behind media messages. These skills are particularly valuable when resisting substance abuse; advertisements try to paint a misleading picture of what smoking and drinking look like, but with the power of Media Ready, students won't be fooled.
To be sure, this is but one element in what must be a multi-faceted approach to the problem of youth substance abuse, but it is one that is designed to engage young people, give them the skills to make healthy decisions, and spur them to action.
Goals
Media Ready is designed to:
Encourage healthy cognitions about abstinence from alcohol and tobacco/nicotine use

Enhance students' ability to apply critical thinking skills to interpreting media messages (in general) and alcohol and tobacco/nicotine media messages (specifically)

Delay or prevent the onset of underage alcohol and tobacco/nicotine use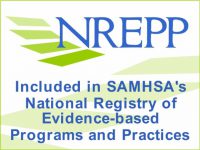 What makes the Media Ready program unique?
Evidence-Based: Media Ready has been rigorously tested and is based on more than a decade of research. Prevention specialists, teachers, artists, and students all contributed to making Media Ready an effective program for middle school-aged youth. This is one of the few programs determined effective in a randomized, controlled trial of a school-based, theoretically grounded, media literacy education program for alcohol and tobacco prevention.

Scope and Sequence:  Media Ready is unique because the scope and sequence of the activities were developed and organized to reflect the most up-to-date research findings in the fields of substance abuse prevention, social cognition, and media literacy education.

Fun, Interactive Learning: Although Media Ready has the goal of substance abuse prevention, students are not initially aware that prevention is the focus of the program. While exploring advertising techniques, alcohol, tobacco, and e-cigarette marketing is shown to the students along with other marketing examples for products and services.
Lessons Based on a Conceptual Model: Media Ready is based upon a conceptual model of how media messages are processed. It has the goal of changing how students are able to think about and respond to media messages.

Follows Standard Course of Study: The program and lesson objectives are integrated with curriculum objectives in language arts, information skills, and healthful living.

Adaptable: The program is adaptable to a variety of classroom settings, teaching styles, and student skill levels and also to a variety of learning environments including schools, afterschool programs, and community settings.

It works! Media Ready has been shown in a rigorous evaluation to reduce boys' intentions to use alcohol and reduce boys' and girls' intentions to use tobacco products. It is a promising preventive intervention program, which should reduce the likelihood of underage drinking and tobacco use.